The College of Horticulture and Landscape was founded in May 2001, which was first established in 1950 as 'the Department of Horticulture in Yunnan University'. The College contains three departments: Department of Horticulture, Department of Landscape Architecture and Department of UrbanArchitecture, and two research offices of Vegetable and Pomology. The College has 59 faculty and staff members including 7 professors and 25 associate professors, of which 17 hold Ph.D. degrees and 22 hold Master degrees (including Postgraduate Courses graduates), 6 Ph.D. candidates and 25 Master's supervisors. Two of them have been honored the Prize for The Yunnan Outstanding Contribution, two back up talents for Yunnan Young and Middle-aged Academic and Technology, and one School-Level Teacher-Ethics model. With the development and construction of the disciplines and majors, a teaching staff with good comprehensive quality, high academic level and strong strength has been established.
The College is responsible for training multilevel talents, with four master-accredited fields of pomology, landscape plants and ornamental horticulture, vegetables and ornamental horticulture, and one master-accredited filed of agricultural extension in horticulture field. Five undergraduate majors are set up, namely, landscape (including Golf Course Management), horticulture (including flower, vegetable and China-Netherland exchanging program), sericulture science, landscape architecture and protected agricultural science & engineering. And two adult education majors are also set up. The Discipline of Horticulture is the dominant and featured key discipline of Yunnan '12th Five-Year Plan', School-level key discipline, and the Horticulture as the featured major in Ministry ofEducation. The College currently enrolls more than 1200 students, including full-time postgraduate students, postgraduate studentsof Agricultural Extension in Horticulture field, and undergraduate and junior college students. In these 60 years, the College has cultivated more than 4,000 graduates. Since 2001, the Collage has joint running school with Van Hall Larenstein University with '2+2' training style and about 130 students have been exchanged to Netherlands for study. This joining school style has become one highlight of the College training.
The College has three scientific platforms, two centers under construction, 'Specialized Horticultural Plants' Germplasm Resources Engineering and Technology Research Center of Yunnan Higher Education' and 'Yunnan Vegetable Seed Industry Engineering and Technology Research Center', and one institute, 'Floral Research Institute of College of Horticulture and Landscape Architecture Yunnan Agricultural University', which focused on floral resources utilization and new varieties breeding. The total area of teaching practice base is more than 70 mu. The well-equipped and opened teaching and research equipment benefit the scientific research and practice teaching for the students.
Recently, the College members have been engaged in scientific research on the utilization of the advantages in rich biological resources and climate diversity.
Fruitful achievements have been obtained in many fields which have driven the development of Yunnan horticultural industry, such as the utilization and research on orchid resources, the innovative research on vegetable germplasm resources, production technology extension in fruit trees. The College has hold lots of programs funded by many agencies with totally more than 10 million RMB, including Ministry of Science and Technology, Ministry of Agriculture, National Natural Science Foundation, Yunnan Department of Science and Technology, Yunnan Education Office and so on. Several new varieties of orchids and tomatoes have been selected, and several patents granted. The College was rewarded the Third Prize of Natural Science and Technology Progress Awards three times, the Third Prize of Natural Science Awards once, and one Innovation Award of the Chinese Produce-Learn-Research Cooperation Promoting Association. The scientific research progress has provided solid foundation for the construction of a research university.
New Tomato variety 'Dian Hybrid-Zhuangyuan Red 23'
New Orchid Variety 'Shuguang'
Social Service work has successfully carried out taking advantage of College's talents and resources in many counties. Lectures and technical consulting have been conducted involving base construction, cultivar selection, fertilization and pest control etc. Many experts have guided the production and taken part in the scientific and technical results' extension and anti-poverty projects in many counties, such as Jianchuan, Lijiang, Yaoan, Wenshan, Huize and Malong etc.
The College has established a broad and close contact and cooperation with other universities, research institutions and horticultural enterprises at home and abroad. Since 2001, the College signed a contract with Van Hall Larenstein University to cooperate on the joint running undergraduate education program, and many teachers have been trained in many agencies domestic and overseas. More than 10 English teachers have been introduced from many countries. Experts from Netherlands, Japan, New Zealand, Vietnam and Laos have visited the College for cooperation and communication.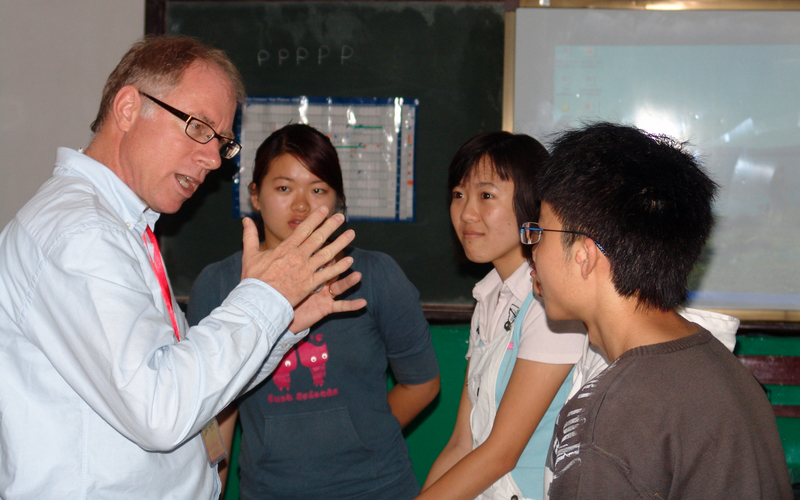 '2+2' Style
The student work has been steadily promoted, various and wonderful extra-curricular activities have been organized. The College has successfully undertaken the Yunnan College Student Flower Arranging Competition twice, School-Level Flower Arranging Competition five times and achieved excellent results. The Fruit and Vegetables Platter Contest have been successfully undertaken three times. The Women's Basketball Team won the championship six times in 'Yunnan Agricultural University Cup'.
Now, all the College members are making great efforts to expand new majors and fields, to enhance the construction of discipline and major, and to make all the majors achieve harmonious development to promote the landscape architecture and horticulture industry in Yunnan.