College of Animal Science and Technology (CAST), Yunnan Agricultural University, was founded in 1950, and its predecessor was the National College of Agriculture Department of Animal Husbandry, Yunnan University. It has a history of more than 60 years. Generations of teachers and students stick to the motto "hard working, plain living" and make great efforts to seek development by expanding the scale of the college and improving the quality of talents cultivation.
At present there are 114 staff members, among which there are 22 professors, 43 associate professors and 34 lecturers. 43 teachers have Doctor's degree. 51 teachers have Master's degrees. The ratio of staff with Ph.D and Master's degree to total staff is 82.46%. There are a Provincial Science and Technology Innovation Team and 2 provincial teaching teams in our college. Many teachers have won different kinds of national awards. Some of them are academic leaders or experts in various fields of Yunnan Province.
About 1788 students, including 1507 full-time undergraduates and 263 post-graduate students study in the college..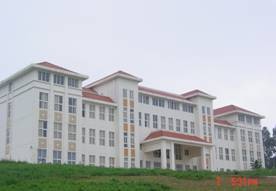 Taking advantage of the abundant and diverse livestock and fodder resources,CAST endeavors to satisfy the needs of social economic development and livestock industry. After nearly 60 years of development and construction, it has a laboratory area of 10845.45 square meters, and teaching and research equipment worth 1624.11 million Yuan. Its practice bases include a poultry farm, a pig farm, a dairy farm, a feed factory, a grass science base, and a veterinary hospital on campus, together with a number of practice teaching bases outside the campus. At present, the college offers 6 doctoral programs (2 in first-class disciplines and 4 in second-class disciplines), 13 master programs (3 in first-class disciplines, 8 in second-class disciplines, and 2 professional degrees), 4 undergraduate programs and 3 adult education programs. Its key disciplines include animal husbandry, animal nutrition and feed science, animal genetics and breeding, preventive veterinary medicine, grass science and so on. Up to now, CAST has graduated more than 8,000 senior professional in animal science, veterinary medicine, animal nutrition and feed processing, grass science, aquaculture, storage and processing of agricultural and livestock product, bee science and so on. It has become an education base preparing animal husbandry talents and an important scientific research and technology promotion center in Yunnan.